** BLACK FRIDAY SALE ON NOW!  VISIT OUR SPECIALS PAGE FOR BLACK FRIDAY BARGAINS **

  Fully stocked Australian warehouse:
          orders despatched within 1-2 working days*

  Low cost flat rate postage within Australia: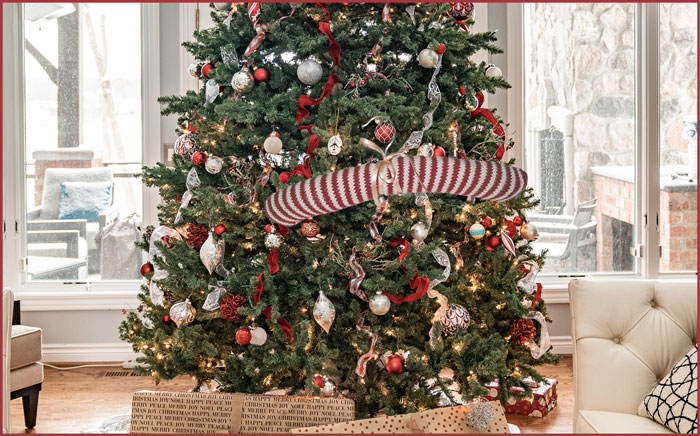 order as much as you want & pay only $10 delivery!

  Good old-fashioned, friendly customer service:
          Free mail-order catalogue, yarn samples, phone orders: call Alison (8am-8pm AEST/7 days) 0408 992 927.

  Free exclusive knitting patterns:
          great benefits for customers: find out more. 
*If there's a delay for any reason, we'll contact you.
Free Christmas Knit:
As our gift to you, download a copy of this Christmas Striped Padded Coathanger Cover pattern leaflet now!  Padded coathangers are a great accompaniment to your hand-knitted garments and accessories, preventing damage to the shoulders when hanging in the wardrobe.  You can view and download your free pattern here.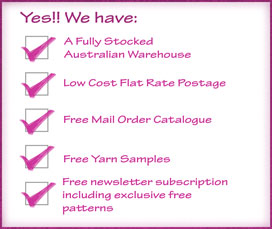 Looking to buy quality natural fibre knitting and crochet yarns or knitting kits online from an Australian retailer, at an affordable price? 
Welcome to Knitting Yarns by Mail, your online shop for natural fibre yarn, knit kits, specialty yarn, knitting patterns, needles and accessories in Australia. Let us take the hassle out of your next knitting project.
At Knitting Yarns by Mail we bring the yarn store to your door.
We value quality products, with a strong emphasis upon products made with natural fibres and wherever possible, made in Australia.  Most of our imported yarns are sourced from Europe and Japan, where the manufacturing standards are at their highest.  It's important to us to provide you with a product we ourselves are proud of and enjoy, and we want knitters and crocheters to be able to work with a range of materials that enhances their love for their chosen craft, and inspires their creativity.
If you have specific requirements for your yarn, individual yarn product listings provide details as to composition and manufacturing.  If you can't find the information you need, please don't hesitate to contact us, we're only too happy to help match you with the perfect yarn to suit your crochet or knitting project.
---

Knitting Yarns by Mail is a small Australian family business, retailing specialty knitting & crochet yarns in wool, alpaca, silk, mohair, cotton and cashmere from the best brands;  Patons, Cleckheaton, Heirloom yarns (including specialty Jigsaw sock yarn), Debbie Bliss (silk knitting yarn, cashmerino), Eki Riva (alpaca knitting yarn, kid mohair), Lana Gatto (cashmere), Noro knitting yarn, Shepherd, Panda  and Design Spun (mohair), as well as an exclusive range of wool and mohair yarns from Stokesay Mohair Farm.  For more information about us, visit our Useful Info page.